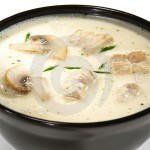 Tom Ka Gai (Chicken soup with coconut and galangal)
Summary: This rich and creamy soup is well known outside of Thailand. The mixture of sour and spicy are 'cooled' by coconut milk. Before living in Thailand, this was one of my fav Thai dishes. It's still yummy, but with such a huge selection within Thailand, I save my tom ka for dining outside the kingdom.
Ingredients
2c chicken stock
1c coconut milk
1t palm sugar (soft is easier to deal with)
2 trimmed stalks of fresh lemongrass
4 shallots peeled
2-4 prik kee nuu (literally: rat shit chili)
8 slices of galangal root (about 1/8 inch thick)
4 kaffir lime leaves
3oz of mushrooms (best options: straw or oyster)
4oz sliced chicken meat
1T lime juice
1-2T fish sauce
1T coriander leaf (cilantro)
Instructions
bring coconut milk and stock to boil.
add palm sugar and a dash of salt
blend shallots lemongrass, chilis and coriander with mortar and pestle or grinding stone until bruised
Add mix to stock
add lime leaves and galangal
simmer for 5 minutes
add chicken and mushrooms
lower heat
simmer until chicken is cooked
mix lime juice, fish sauce, coriander leaf and (optional) extra chilis in a separate serving bowl.
ladel soup into serving bowl.
garnish with a split chili and additional coriander leaves
Variations
add more chilis for extra spice.
add more galangal and lime leaves if you like it sour.
if you don't have palm sugar, you can replace with white sugar, but start with about 1/3 the amount and add at the end for more sweet flavor.
Cuisine: Thai
Microformatting by hRecipe.