If you're a vegetarian – or prefer to eat lots of non-meat meals – this post is your resource for dining in Chiang Mai.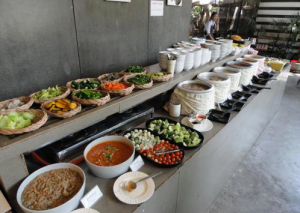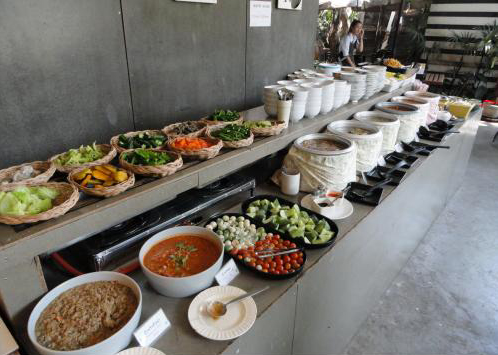 Did you know that Northern Thailand – and in particular, Chiang Mai – is an easy destination for conscious eaters? There are lots of veggie restaurants, organic food is available at many restaurants and markets, and there even seems to be a growing awareness about MSG – with signs on restaurant window fronts proclaiming their MSG-free status.
This is not just to accomodate western tourists. In fact, you can find veggie restaurants catering almost solely to Thai people, with no English speaking servers and no English language print on menus or signs.
So now that I've been here in Northern Thailand for 8 weeks, I've had a chance to try out about a dozen veggie-focused restaurants. Below you'll find a few details on 7 of them, along with general info on where else to get good veggie food in Chiang Mai.
1. Radiance Restaurant at The Spa
Vegans and raw foodies will love this place. Meals are prepared fresh, with most produce coming straight from their organic gardens at the top of the property. The Spa is out of the way if you're staying in Chiang Mai, (about 40 minutes north in Mae Rim, off the 107). But for high quality, organic vegetarian (and some fish dishes), Radiance is worth the sojourn!
2. Khun Churn
Located on Soi 17 off of Nimmanhaemin road (west of Chiang Mai's Old City) Khun Churn is THE place for uber-fresh and healthy buffet vegetarian lunches. Besides Radiance restaurant (#1 above), this place takes top marks. It's popular among Thais, foreign expats and visitors alike. Raw food cooking classes available on-sire.
3. Aum
Popular with backpackers thanks to it's location, price and funky decor (sit upstairs!) Aum has a wide selection to choose from and is super easy to get to. Located just across the street from the Tha Phae Gate on the east side of the old city, next to Black Canyon coffee.
4. Gap's House
A backpacker guest house that's so popular they won't take reservations, Gap's serves a nightly vegetarian buffet spread that's simple but tasty. Begins at 7pm & you don't have to stay at the guest house to dine there. Located just off Ratchadamnoen Road on Soi 4, Southeast quadrant of the old city. Vegetarian cooking classes available.
5. May Kaidee's
This Khao San Road (Bangkok) classic has a northern branch, but it's NOT located as indicated on the latest Nancy Chandler map of Chiang Mai. Look for the hole-n-the-wall with great dishes on the north side of Ratwithi road between Ratchaphakinai and Soi 2. Vegetarian cooking classes available.
6. Taste From Heaven
Excellent vegetarian Khao Soy (A Northern specialty) and a pretty garden out back. Located on the south side of Tha Phae road, just East of the old city between Wat Mahawan & Wat Buppharam. These folks are connected with the Elephant Nature Park, so when you book trips with them, you support these wonderful animals. Vegetarian cooking classes available.
7. Blue Diamond
Apparently an institution for excellent veg meals in Chiang Mai, Blue Diamond has a small specialty food shop within its little restaurant compound. Unfortunately when I went, it was so busy that I knew I'd have to wait longer than I wanted, so slipped out before giving anything a try. Northeast quadrant of the old city, a smidge east of Wat Chiang Man.
Other Veggie-Friendly Options
There are plenty more vegetarian restaurants and low-cost buffet lunch options in Chiang Mai. These are marked by a yellow sign with red writing (but in Thai). Another thing to keep in mind if you want fresh, live food and vegetarian food is that your choices in fruit are pretty much mind-blowing 🙂 I highly recommend the northern most edge of Worowat Market (day market) where there are more fresh fruit stands than you can shake a stick at!
And … if you haven't been to Thailand or anywhere along the tropic, backpacker trail before, then rest assured: there's a fruit smoothie stand on just about every corner. Just be sure to tell them no sugar if you want a genuine healthy refresher.
Questions or recommendations about eating veggie in Northern Thailand? Please share your thoughts in the comments below.