"I'm a sucker for good, green design. Show me a trendy little cafe, concept resort or 1-of-a-kind B&B with those 'little touches' and I am sooo there."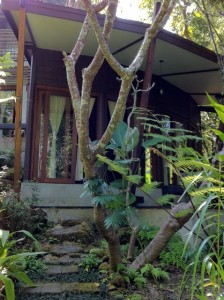 Add a good dose of nature to the mix and I'm a gonner!
So it's no surprise that, of all the possible places I could have stopped to while away an hour as I wandered the hills of Chiang Mai, I chose a tiny boutique hotel & cafe with odd name of Proud Phu Fah. Calling themselves a 'Hip & Green Hotel', this 9-villa, tropical modern enclave was conceptualized and built by a Thai couple.
Design Deets
With poured concrete structures, quirky details (like the squirrel faucet handles on the outdoor bathroom sink, or the oversized, lincoln-log figures in the garden), stellar mountain views and a flowing stream through the property, this spot is literally nestled (I try to avoid this word, but here: it suits!) in a ridiculous abundance of greenery.
Hip and Green?
Well the 'hip' part is evident as soon as you arrive. Not only is this a stylish place, but it's clearly popular among the 'hip-n-trendy' set of Bangkok. Green? Well, besides the fact that it's ahem, nestled in nature (sorry, I'll stop using that word!), I can't really be sure. Certainly there's a lot of materials that could be from other recycled things. But the website doesn't make this clear. Nor did any ready material at the hotel.
Unfortunately, the hotel caters to Thais, so the info on their website is limited at best. But still, should you find yourself in the area with several thousand baht (Thai money) to spare, you could do worse than Proud Phu Fah. Have a look at some pics below. Oh! And their website is as 'noisy' as the surrounding natural landscapes 😀