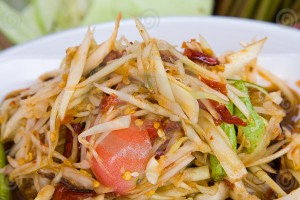 The ubiquitous, delicious Thai sour salad. Find it on any street corner or haut venue. This variation from thanks to Blue Elephant cooking school in Bangkok
Ingredients
80 grams grated green papaya strips
2 cloves of garlic peeled
1-4 green prik kee nuu (rat shit chilis)
15 grams long beans cut in 3/4 inch lengths
1T roasted peanuts
1T small dried shrimp
2-3 cherry tomatoes cut in half
1T palm sugar
1T fish sauce
1.5T lime juice
1t tamarind juice
Instructions
In a mortar crush chilis and garlic – roughly
add dried shrimp
continue crushing
add long beans – pound roughly
add palm sugar, lime juice, fish sauce and tamarind juice
add tomatoes and gently mix with pestle
add peanuts and papaya
mix well
place in serving dish
Quick Notes
The mixing/crushing should be rough so that all solid ingredients but tomatoes keep much of their shape.
Variations
Lots of variations on this! You can add more or less of many of the ingredients (especially chilis!) depending on your taste.
Cooking time (duration): 5-6 minutes
Number of servings (yield): 2
Meal type: snack
Culinary tradition: Thai
Microformatting by hRecipe.
Microformatting by hRecipe.