I recently came across David Thompson's 2002 tome, Thai Food/Arharn Thai in our small local library. Not accustomed to finding such exotic content here in the high Rockies, I checked it out without even bothering to flip through a few pages first. I'm glad I did.
If I've read one history of Thailand, I've read twenty, yet I never seem to tire of the story that traces the various Tai tribes' journey from small transiting groups out of southern China to rice-growing communities in the region's fertile river valleys, through the consecutive kingdoms of Sukhothai, Ayutthaya and finally, Bangkok-based Thailand as we know it today. I've read political histories, cultural histories, religious histories and the history of textile and craft development, but this was my first foodie's history of old Siam.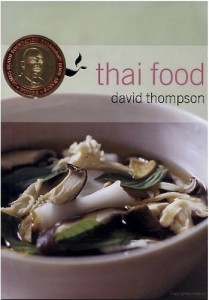 The first 117 pages of Thai Food's 640+ is yet another rendition of Thai history, this time viewed and shared through the lens of the kingdom's cuisine. From rice and religion to the influences of court edequit, the Chinese, western travelers and up-country palates, Thompson examines the evolving face and tastes of Thai food. While some have criticized this segment of the book as being too in-depth, I enjoyed it immensely.
Australia native Thompson is considered THE authority on Thai food and his passion and depth of knowledge are evident in the generous treatment of the book's many historic recipes. He includes much more than ingredients and method for most. Expect to learn a little bit about the history of Minced Prawn in Coconut Cream, or the colorful character from King Rama V's court whose Breem Simmered in Pickled Garlic Soup is found on page 229.
Sections include a glossary of all you'd expect to find in a Thai kitchen, from equipment to spices and preparation methods; recipe sections that begin with relishes and move on to soups, curries, salads, sides and full menus; and a final section titled "Food 'outside the meal'" which covers street foods and desserts.
The problem with Thai Food/Arharn Thai, however, is in the ingredients. Finding some of the obscure things necessary to make many of the dishes will prove challenging if not impossible for anyone living outside tropical Asian zones. But if taken as a record of Thai cuisine and culinary practices, rather than solely as a 'cook book', Thai Food/Aharn Thai is a gem. If you give yourself the time to flip through its more than 350 recipes, you'll certainly find dishes using ingredients you can find locally, or at least in your nearest, mid-sized city.
Thompson, David. Thai Food/Arharn Thai. Berkeley, 10 Speed Press, 2002.