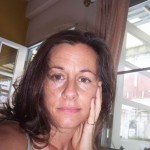 I came across some crocodiles in Bangkok today – well, sort of. I was on assignment, you see. My mission – to write a story about shopping for shoes here in the 'Big Mango'. The research has taken me to most of the city's big shopping complexes: MBK, Central Chidlom, Emporium, Zen and Central World were all on my list.
It was a tough assignment – really! You laugh, eh? Well I'd like to see you dedicate six+ hours of your life to gawking, caressing and most importantly, trying on tens of stilettos, even more platforms, flip-flops, and practical shoes . . . and then not buy every single pair. I ask you, do you think you could handle choosing between hot black pumps lined with studs and rhinestones, or sweetie-pie pinks that say 'not as innocent as these look'? How about wedges in fire engine red, fur-lined zebra stripes, or the finest leather out of Italy and Brazil? I tell you, it was grueling.
But I digress, this story is about crocodiles.
After three days, hours of sampling, pages of notes and, ahem, four pairs, the task was complete – time for a reward. I headed to Siam Paragon – the, um paragon of shopping. I remember the days when this mega-mall of style was just a dream in someone else's mind. Back then I was new to Bangkok and used to change skytrain lines at the Siam station, Monday through Friday. In those early days, I could look out north over the city, eyeing the high-rises near klong (canal) Sansaep and into the urban haze beyond. Then construction began, and it was clear from the foundations that whatever they were building, it was gonna be BIG. I would watch the hoards of construction workers each morning – different crews in different color shirts moving around like so many ants along the quickly rising frame.
In time, that frame stood well above the second-story perch where I and hundreds of other commuters awaited our train to enter the station. Eventually, the mall's shell went on and its megalithic proportions were revealed.
Before I had chance to experience Paragon from the inside, however, I moved to Phuket. That was in 2005. Since then, I've gotten lost in its maze a few times during periodic forays to the city, but it is only on this visit that I've really explored the place. I saw "Alice in Wonderland" there on an IMAX screen – in 3D, no less – a couple of weeks ago. I interviewed the Manager at Kinokuniya books, (with its 85,000 English language titles), for another story last week. I've eaten sushi in the basement and scratched my head wondering how on earth they managed to get Lamberghinis into a second floor storefront. But until today I hadn't actually considered shopping in Paragon.
And I still wasn't thinking about shopping when I stopped at L'Espace Cafe for an afternoon latte. I picked the cafe for its style, its couches and the fact that there were magazines to peruse. But when I sat down in this mid-hallway venue, I realized I was surrounded by what I can only describe to you as handbag heaven: Cloe, Versace, Tod's, Dolce & Gabanna . . . uh oh.
I sipped my latte slowly, flipping through a couple of magazines and trying to ignore the almost audible beckoning from all around me. I held out for a good 30 minutes before buckling under the pressure. "What the hell? I'll just have a look."
I know what you're thinking, and you're right – I was deluding myself. But you see, I've never been a purse hound. I haven't had that peculiar ailment most women develop sometime around puberty – the pleasure/pain thrill (pleasure for her, pain for her wallet) that keeps her frequenting favorite shops in search of the latest statements in flotsam carryalls. While I definitely have the shoe thing, I never could understand what the bag thing was about. My mom has it, my grandma had it. In fact, I can't really think of too many female friends who don't have it besides me. That is, until I moved to Bangkok.
"But Crocodiles," you say, "what about the crocodiles?" Bear with me . . .
About five stores into my browsing I walked past a particularly enticing storefront. Yes, I walked past. But then I turned around. A floor-to-ceiling glass front revealed a white-on-white interior with back-lit walls and Modrian-esque shelving. Here were bags in red, black, beige and a few risque colors like mauve, salmon and steel grey. Grabbing one of the massive door handles, I entered, reminding myself that I was "just looking". I savored the stillness, the clean lines, and that provocative smell of fine leather. I ambled slowly about the room, weighing each bag's merits with my eyes – this one's nice, but a bit too big; I like that color, but it has too little shape; oh look here! too bad it's so shiny.
But inevitably, one was deliciously perfect. It said "I'm sexy, sophisticated, yet luxuriously discreet," all in one glance. It was red, with firm straps that made a tight, double arch from one side to the other. Unassuming buckles, a pleasing, semi-domed shape, and a texture that screamed "touch me!" were too much to resist.
I plucked it off the shelf with my right hand and casually – stylishly – sauntered past a mirror, letting it swing gently as I examined its weight, color and texture against my black trousers. Mmm, I liked it! "Nii tao rai kah?" (How much is this?) I asked the girl. Very casually she responded in English, "One hundred forty six thousand baht, kah."
"Oh" I said, trying to act like this was absolutely no surprise. "Real crocodile skin" she pointed out. "Yes, indeed," I replied, as I gingerly returned the bag to its shelf.
So, dear friends, there you have it – crocodiles in Bangkok. But unless you are willing to cough up something in the neighborhood of a car down payment, you needn't worry about these crocs threatening life, limb or wallet, kah.