I go to Vientiane for my Francophile palate. The Lao capitol's coffee culture, fattening naughties like fois gras or cordon bleu, sublimely flaky croissants, and ever-available baguette sandwiches loaded with pate and veggies call me back time and again. I assumed France's culinary legacy went far deeper, so I arrived with mouth-watering anticipation, ready to discover what the city's chefs must be creating. Yes, I was eager to sample as much French-Lao cuisine as one girl could handle in a week's time . . .
"It doesn't exist." said Chef, flatly. Ralf Haupts, the German-born Executive Chef at La Belle Epoque assured me that my mission was misguided. And he was not the only one. I would hear this statement many times during my visit. "No, there is none," agreed Yves Prallet, owner of Le Central. "If there is something called 'French-Lao' cuisine, it's not here," added Daniel Binard, another Frenchman and long-time owner of Le Provencal. Even the term "French-Lao Cuisine," was up for question. "I'm not sure it exists," said Chef Anthony Dewald the French-Canadian kitchen wizard of Le Silapa. After 11 years in Vientiane, the only time he's seen French influence in local fare was "when one of my staff put croutons on a dish of laab gai".
Given the two culture's strong culinary characters and Laos' French colonial past, I thought Vientiane would be brimming fusion. I was wrong. "In terms of food, most people stick with either Lao or French," said Vang Vieng-born Mr. Mouk, owner of Amphone. At Amphone, Mouk explains, "we've diversified our service and presentation to offer authentic Lao fare in a western context." That context includes things like meals served in courses and stylish presentations. But the food itself? Pure Lao.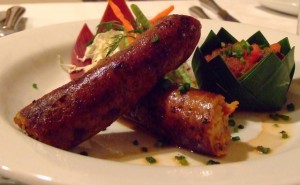 "Maybe a French-Lao menu would go over in Luang Prabang, but not here," asserted Chef Bernard, the Thai/French owner of La Terrasse. His restaurant's menu includes a broad range of western dishes that run the gamut from Italian pasta plates to salads, burgers and even some Mexican fare. What is not on the menu, however, is any sort of nouveau dish birthed from a blending of East and West.
Why Not?
"People here don't yet want to go out of their comfort zone," explained Mouk, adding that locals and expatriates alike "prefer to be either 'here' or 'there' – not in-between – when it comes to dining."
"The French don't know the Lao style," said Chef Tinay, the French-Lao wunderkind behind L'Adresse, one of the city's newest – and purely French – venues. Though Tinay learned Lao cooking at home, this young francophile prefers his western lineage traditions in the kitchen.
But despite these Asian, Canadian and European chefs certainty that my mission was a futile one, what I discovered is that each, in their own way, is incorporating elements of one cuisine into another. So although there is no French-Lao cuisine per-se, there is often a use of local ingredients prepared with French techniques and sensibilities. Thus you might find a Lao eggplant used as a vessel for caviar, goat cheese spring rolls, traditional yaam (salad) marinated with cognac, or fish sauce made from salmon.
Le Silapa's Atlantic sea scallops is a perfect example. Garnished with sheets of fried Mekong river weeds and marinated in a cream sauce fused with a bergamot-lemongrass tomyum broth, the scallops are simultaneously richly French and freshly Asian. The weeds add an exotic, crispy contrast to the tender scallops, making a well-balanced fusion of East and West.
La Belle Epoque's salmon somtom is another example of an experiment gone very right. The dish offers a delicious contrast of flavor and texture. Crusty, hot black pepper, succulent, whole mouthfeel salmon and tangy sour papaya all come together to engage and surprise the palate.
For a purely French meal, Le Central restaurant's salade landaise is superb. This duo of terrine and pan fried fois sits atop a bed of super-fresh greens, accompanied by quick-blanched asparagus, thinly sliced duck breast and crispy apple slices. "This dish is very popular," notes Yves. And understandably so, as it offers a perfect balance of textural variety with smokey rich flavours.
In the realm of authentic Lao dishes, Amphone stands out. My favorite is the chicken citronella. The chicken is marinaded in a bounty of herbs then deep-fried and served on a boat-like sheath of lemongrass. With a complex blend of flavours and fragrance, and a texture that is neither oily nor dry, this moist, beautiful dish is 'wow-factor' delicious and a pleasure to all senses.
French, Lao or otherwise, one thing is certain about Vientiane: there's plenty of palate-appeal. With almost no effort, diners will find superb French venues, a small but growing selection of fine Lao outlets, excellent and readily available French and other world wines, and some very gifted kitchen maestros.
Honorable Mention – Other restuarants worth a visit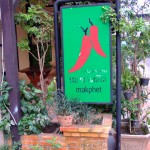 "Provincial Lao dishes with a contemporary twist." 100{12cc8fe0372f5298363c9e4058f06d2213b485e62f0b8c47cbed5d8de8bb446c} of your bill goes directly to the training and education of the former street kids who run the place!
Makphet
Behind Wat Ong Teu, parallel to Sethathirat Road
makphet@friends-international.org
www.friends-international.org
856.21.260.587
The only creperie in Laos.
Ty-Na Restaurant
Owner Tatiana Le Sann
Pang Kham Street (near Nam Phu Water Fountain)
tatianalesann@hotmail.fr
Rustic French with very good soufflees and wood oven pizzas.
Le Vendome Restaurant
Chef Jean-Pierre – daughter Sandra
Rue de Wat Inpeng
jpdc69@yahoo.fr
kramgnoycity@gmail.com (Sandra)
856.21.216.402
Contacts
Amphone Restaurant
Owner Mr. Mouk
mouky65@gmail.com
856.207.711.138
Chez Philippe Restaurant
Chef Philippe
Sethathirat Road (Phimphone Market, 2nd floor)
phibolao@yahoo.fr
856.21.213.334
La Belle Epoque at Settha Palace Hotel
Chef Ralf
6 Pang Kham Street
chef@setthapalace.com
www.setthapalace.com
856.21.217.581-2
L'Adresse de Tinay
Chef Tinay
New Lao Paris Hotel
118 Samsenthai Road
tinay.intha@gmail.com
856.20.691.3434
La Terrasse
Chef Bernard
Rue Nokeokoumane, Ban Mixay
bpricco@laopdr.com
856.21.218.550
Le Central Restaurant and Brasserie
Chef Sebastien
Owner Yves Prallet
Sethathirat Road
lecentral-restau.laos@hotmail.com
856.21.243.703
Le Provencal Restaurant Francais
Chef Daniel
73/1 Rue Pangkham
julienbinard38@hotmail.fr
856.21.219.685
Restaurant Le Silapa
Chef Anthony
17/1 Sihom Road
adewaldlao@yahoo.com
856.21.219.689