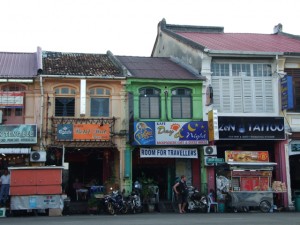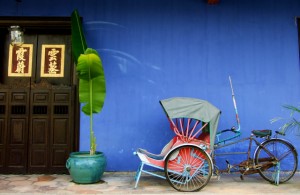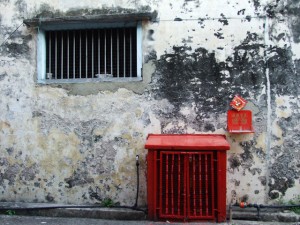 Of all the cities I've visited in Asia, Georgetown Malaysia is hands-down my fav. This little urban enclave of people-packed streets and amalgam of architecture has got ahold of my imagination and won't let go. Yes, I know, Asia is sprinkled with more dynamic metropolises, to say nothing of the region's breathtaking beaches, gorgeous resorts and lonely, get-away-from-it-all outposts. But something about this city, crammed onto Penang Island's narrow peninsula keeps drawing me back.
Maybe it's the architecture – that exotic blend of Hindu, Muslim and Buddhist temples, Straits-style shop houses and British colonial buildings coexisting in hodgepodge fashion. Maybe it's the friendly, busy, bustle and chatter of the heterogeneous locals, speaking Hokkien, Malay, Tamil and English. Maybe it's the scrumptious street food, or the blaring Bollywood tunes in Little India, the "white" coffee, morning markets or colorful characters like Mr. Lee the joss stick maker and Auntie Sim who reads your fortune in the lines of your face.
Whatever it is, Georgetown has wowed me for about a decade, and apparently I'm not the only one who's taken notice. In 2008, UNESCO listed Georgetown as a World Heritage City. The listing was given due to its "multi-cultural tangible and intangible heritage." That heritage, according to UNESCO, is expressed in everything from the architecture to the language, the religions, festivals, food and daily life of the people who call the town home.
While World Heritage status typically triples a destination's tourist numbers within the first five years, what I noticed most on a recent visit was an accelerating facelift. Thanks to a small handful of foreign and local investors, some of Georgetown's structures – its tangible heritage – are being saved from decay and even condemnation. Private home restorations run the gamut from 19th century, Straits Chinese style to contemporary reinterpretations, while a smattering of stylish boutiques, galleries and dining outlets are popping up among the city's fading facades. The change is certainly appealing, but it is not without risk to the very community that cultivated such a rich heritage.
Those at the forefront of the city's heritage revival expect these early renovations to be the tip of an ice burg of recovery. The challenge now, according to key players in Georgetown's heritage scene, will be to avoid an overhaul that is too sloppy, sweeping or hasty. Typically, when the pace of a city's urban renewal outruns thoughtful planning, renovations may not be authentic – or even appealing – and living costs tend to skyrocket, triggering a mass exodus of locals.
"Conservation is the management of change," explains Khoo Salma Nasution, President of the Penang Heritage Trust (PHT). The PHT was founded in 1986 by a group of concerned citizens who had recognized "a gradual erosion and distortion of the fabric of Georgetown." In an effort to encourage sustainable urban revitalization, they have since become a platform for Georgetown cultural issues, development and city planning. "If you know that change is coming, put parametres in place to make it beneficial, rather than allowing wholesale gentrification," says Khoo Salma.
According to Khoo Salma, despite the handful of renovations completed or underway, there are still about 500 derelict houses in Georgetown. "UNESCO status," she says, "has been a big help to the PHT's efforts, allowing heritage to become a more mainstream concern among locals." But more is needed, she argues. While there is growing awareness among Georgetown's denizens of the value of their buildings and culture, the PHT believes there are several critical issues which must be addressed in order to effectively manage change.
Perhaps the biggest issue – and an rising, aesthetic holocaust, is swiftlet farming. The recent proliferation of these ruinous sites poses significant risk to Georgetown's UNESCO listing, as well as potential health dangers to the community. Swiftlet farms are made by converting shop houses into cave-like dwellings to attract the birds. Breeders board up windows, gut interiors, and install sprinklers in order to create the environment swifts prefer. They then export the birds' nests, mostly to China, for a high price tag. The result is excess noise, potential disease and, with the constant moisture, inevitable and eventual structural decay.
"Raising swifts for their nests is not compatible with residential and community operations." says Khoo Salma of the PHT. there is an "artificial proliferation" of these houses, and although the government has placed a moratorium on additional conversions, there is no deadline as to when they must be eliminated entirely.
PHT council member Artist Rebecca Duckett, believes the proliferation of swiftlet farming poses a serious potential threat to the city's UNESCO listing, putting both the tangible and intangible assets of Georgetown at risk. "This is a great business," she says "but should be conducted in agricultural areas, not heritage sites." Currently, there are about 400 swift houses operating in Georgetown, most of them illegal.
Maintaining the cultural traditions which define Georgetown's intangible assets is another PHT concern. Many of the city's old arts and handicraft traditions are dying. In an effort to put a spotlight on the significant value of Georgetown's artisans, the PHT has designed a self-guided walking tour of traditional trades and foods. Today, visitors can watch people like Ms. May Lim who makes beaded Nyonya shoefaces, visit Mr. Ng while he hand-engraves Chinese seals, or discover savory samosas, tangy apom, and yummy coconut tarts, all made in the traditional way.
On the architectural side of things, Georgetown now boasts some stunning and authentic restorations. One of the first was the Cheong Fatt Tze mansion. This late 19th century home sets an example of conservation excellence, and won the UNESCO inaugural award for Best Practices in Heritage Conservation in 2000. Today the mansion operates as a heritage home stay, with guides who offer daily tours to the public.
In December, 2009 Narelle McMurty and business partner Alison Fraser opened the boutique, Straits Collection in the heart of Georgetown. The Collection consists of two groups of shop houses, one on Stewart Lane and one on Armenia Street. Together, the properties include 10 boutique suites, two retail outlets, a reading room and a cafe.
McMurty is the creative genius behind Langkawi's stylish Bon Ton resort, which is popular with well-traveled clients who prefer unique, heritage properties. When it came to renovations, "we kept them simple," explains Fraser. Seeking to maintain the integrity of these historic buildings, "nothing has essentially changed structurally, beyond some plumbing and electric upgrades – and the furnishings" she adds. The latter is a mix of antiques and brightly colored accents which create lively, inviting spaces.
The Straits Collection may be the first boutique operation on Stewart Lane, but it won't be the last. Hotelier and Native Penangite Christopher Ong, best known for his Galle Fort Hotel in Sri Lanka, (winner of the 2007 UNESCO Award for Heritage Conservation) has a vested interest in his home town's revival, and he's bringing his considerable skills to bear in this task. With two completed projects (Clove Hall boutique home stay, and his private residence) and two more underway, Ong is a major player in Georgetown's architectural renaissance.
"I save buildings" says Ong. But not just any buildings. Heritage structures or not, he only takes on absolute, "basket-cases" – those ready to be condemned. One definitive basket-case that has become a Georgetown icon (in my mind, at least), is a row of shop houses at the end of Stewart Lane, just behind the Kuan Yin Temple. For decades, these seven roofless buildings have stood empty, home to the open elements, weeds, vines and urban fauna. Ong assured me that by the time I return next year, this "Angkor wat meets war ruins" will have a glorious new face. While his plans for the project are still hush-hush, he told me to expect boutique outlets and luxury accommodations to be part of the revamp.
Along with the city's structural facelift has come a commercial revival. Old and new are converging on Georgetown's streets, with a small but flourishing collection of trendy cafes, galleries and boutiques tucked among shop house rows and traditional businesses. The effect is charming, and if I was smitten with Georgetown before, I am now falling properly in love. There is something keenly pleasurable about sipping espresso under the protective shadow of minarets, perusing contemporary art before slurping noodles street-side, or shopping for trendy gifts after sampling Little India saris.
In spite of Georgetown's growing pains, Khoo Salma remains optimistic about the changes. "What is important is the rate of change," she says. "If it happens slowly, the local community is resilient and can adapt. I am very confident that within 10 years, locals will be investing in their own heritage." The challenge now is for public officials and private citizens alike to put Georgetown's tangible and intangible assets at the forefront of this wave of renewal.
For visitors, the current changes are nothing but positive as far as I can see. Not only can we enjoy the broader range of accommodations, expanded shopping options and guided heritage tours, the look of city's as more facades get facelifts, is candy for the eyes.