Phuket's pristine beaches, luxuriant tropic environs and the kingdom's consummate art and architectural style, make it a popular holiday destination. No less so thanks to luxury resorts with designs ranging from unfalteringly Asian to modernist chic.
Absolute beach front is a Phuket rarity when it comes to the hospitality business, and few hotels enjoy stone's throw access to the shore. Of those, none offer both location and boutique accommodations like Mom Tri's Boathouse on Kata Beach.
The Boathouse has an easy aesthetic, with a design incorporating natural and local materials that are friendly to the environment. "You'll find no marble or other high-priced imported materials here," says PR Manager Lisa Sol. Instead, expect stylish treatments in local hardwoods, sustainable, split bamboo and terra cotta tiling for floors.
Since 1989, Mom Tri Devakul, artist, architect and Phuket personality, has been offering a handful of visitors "a hotel for people who prefer not to stay at hotels." Two decades later, this boutique auberge is a landmark, and has become a classic Phuket enclave with a loyal following of return visitors.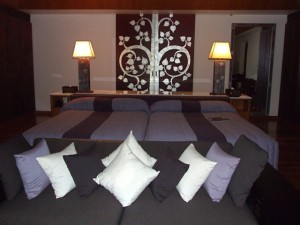 The hotel has a total of only 38 rooms, all facing the sea. Their two new Dolphin Pool Villas (opened in December 2007) are the most luxurious of the lot, each boasting 122 square metres of space, including terrace and private plunge pool.
The villas' contemporary Asian design is complimented by details which evoke Thailand's current dynastic style. Much of the woodwork has been stenciled and partially gilded with scrolled, lotus bud motifs like those you would find in a Bangkok temple or royal compound. The result is a tasteful combination of contemporary tropical with timeless Thai style.
Indigo Pearl is an excellent example of what can happen when a creative genius is let loose with a bounty of materials and a unifying theme. Bill Bensley is the visionary behind this design-driven resort on the west coast of Phuket. Winning accolades and topping travelers' 'It' lists since its opening in 2006, Indigo Pearl has quickly become a hot spot for design junkies and style mavens.
Centered on a theme inspired by the island's tin mining history, every element of Indigo Pearl reflects a post-modern interpretation of a 19th century factory. Industrial sized installation pieces, iron work objets, brass, rivets, polished cement and hand tool-like flatware are the touchstones of the resort, their sharp edges and contrasting textures softened by Thai silk and lush landscaping.
The resort rooms, villas and suites include quirky, inviting elements such as punkha ceiling fans, massive, pulley-wheel doors or black bath tubs atop private, outdoor balconies.
The scale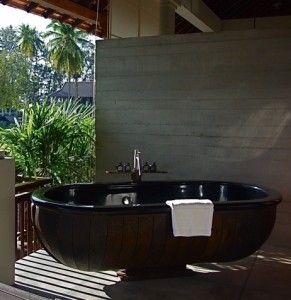 is large, like the man himself, and the factory theme off which he plays. A grand reception pavilion stands at least double height, with exposed trusses made of massive, recycled beams and held together with lag bolts. Pillared lights clad in iron lattice and dotted by bottle blue glass rise metres high over blue couches and iron tables. Resort decor elements scattered about the property include plenty of found industrial pieces like vice grips, antique scales and presses for weighing and molding tin.
"Bensley designed most of the items here," says Arnaud Girodon, General Manager of the resort. "Everything was custom made for us," he explains, "and much of it from found or recycled materials." Sustainable, and highly contextual, each item, according to Girodon, has a story behind it. "With Indigo Pearl, Bensley has gone beyond his own creative vision by incorporating this theme of place."
With 11 hectares of property,  265 guest Rooms, 280 Marriott Vacation Club Units, Phuket's JW Marriott Resort and Spa is huge. But lest you think that size sacrifices charm or good design, think again.
Based on elements of Southern Thailand's distinct art and architectural vernacular, the resort combines the influences of three distinct ethnic groups: Thais, Malays and Chinese. " "It was the mixture of these three art and architectural traditions that influenced much of the design of the resort," says Samantha Lightbody, Creative Design Director of Abacus Design Company.
Abacus was responsible for the  resort's master plan, following guidelines set by Marriott's own team of advisors.  Their challenge, according to Lightbody, was to source those local influences. "Unlike the north," she says, "there is very little written about southern art and decoration, so we had to travel to some very remote areas such as Yala, Narathiwat and Songkla to source items." Things like colourful batik fabrics, brightly painted fishing boats, weavings and stamped hide shadow puppets became thematic sources. "Many of these products influenced the designs of lamps and displays in the lobby, screens at the entrance and brass cooking pots in the dining venues," she says.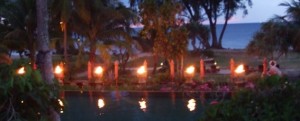 But of everything, it is the guest rooms that are the best examples of the resort's overall design concept. "It was here that we managed to introduce the bright, vibrant colours associated with batik sarongs in both duvet covers and area rug designs," Lightbody explains. "We also feature the fret work carvings associated with colonial/Chinese influences, while most of the upholstery fabrics were custom made in silk and cotton by the Jim Thompson Fabric Company."
Water is the theme of Anantara Phuket Resort and Spa. This former coconut plantation has been revisioned as a magnificent, all-villa retreat based on a traditional, southern Thai village. A total of 83 private pool villas surround a free form lagoon dotted with islets and lotus blossoms, and big enough to attract water birds in abundance.
"This land dictated the design," explains Bill Heinecke, Chairman and CEO of the Minor Group, Anantara's parent company. "Because it was flat, we decided to create a canal like setting with waterways like the old klongs," he explains. In the process, they managed to preserve all the old coconut palms. "We didn't lose a single one!" he enthuses.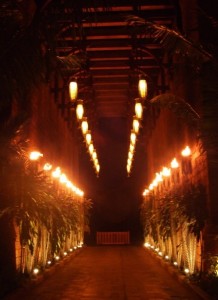 Exotic gardens and grand entryways that evoke a sense of mystery are Anatara trademarks, and these two elements are taken to a provocative high at their Phuket property. With Bill Bensley as the mastermind behind all of the outdoor elements, the result is a landscape brimming with life: Water birds, jasmine, orchids, birds of paradise, and plenty of statuesque palms all underscore the bounty of tropical Thailand.
The resort's imposing facade cannot but draw the eye. A high wall made of indigenous, red laterite bricks is bisected by a narrow, torch-lit corridor forming the entry. Soaring iron sconces in a contemporary herring bone motif line the passage, while matching pendant lights hang from the vaulted brackets above.
Anantara's villas are designed like a luxurious Thai family compound. The ultra-private spaces include large bedrooms, outdoor pool, hardwood decking and private sala – perfect for an afternoon nap in the shade.
Poole Associates out of Singapore were responsible for the resorts three food and beverage outlets. In keeping with the water-inspired theme, the team designed "rain chandeliers" for the Tree House tapas bar and the Tasting Room wine cellar. Made of long, fibre optic threads, these rain-like strands sway in the breeze and illuminate with coloured lights. The effect is dramatic, and as one guest enthused, "gorgeous!"
For those with an eye for contemporary design, Twinpalms Phuket is an exciting alternative to more traditional Thai style. Edgy and chic, the large, modernist, spaces of this boutique hotel and residence are the masterwork of architect Martin Palleros, known for his compelling treatments of other regional landmarks such as Bangkok's Metropolitan Hotel, Baan Yamu residential development in Phuket and Singapore's Plaza Singapura.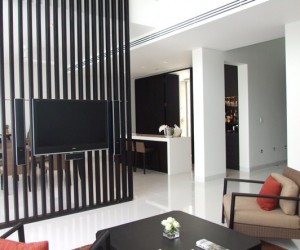 "A harmonious, tranquil modern environment with reference to traditional Thai architecture," is what Palleros has to say about his creation. Those references include bell-shaped chedis atop  marble dais in the reception area, an oversized sala floating above the resort's 1,600 metre square lagoon pool, antique chao fah temple finials as a center piece in the lounge, and extensive water gardens throughout the property.
The hotel's 21 new, Residence Suites each boast more than 150 metres square of interior space plus a private, 9×3 metre pool located on the rooftop or in the garden terrace adjacent to the living area. A double height first floor, bespoke furnishings, and four metre high windows welcome you as you enter. The second floor's wide hall overlooks the living area and opens into an extra-large bedroom with en-suite bath, including separate rain shower and oversized stone tub.
The spaces present a daring union of bold lines and minimalist accents that cannot but catch the eye. Expect marble, teak, and plenty of clean, white spaces.  Contemporary works by local artisans bring colour and cultural flavour to the otherwise monochromatic theme. A well-stocked, private wine cellar, Cuban cigar humidor, fully integrated home theatre system and 24 hour, personal Residence Host cross-trained in all departments from house keeping to basic oenology are all part of the Residence experience. Comfort and effortless living are the inevitable result in these engaging enclaves.