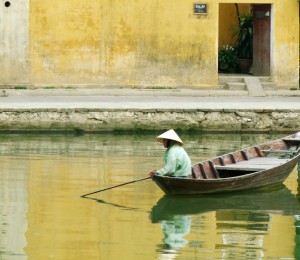 "Eating noodles without chili is like making love without kissing," said Ngoc, a 20-something office worker, as he bit into a tiny green pepper at one of Hoi An's busiest street corners. It was 7am and the ancient port town of Vietnam's central coast was buzzing with bicycles, motorcycles, cars and people on the move. The cao lao vendor before us was doing a brisk trade preparing bowl after bowl of the town's signature noodle dish.
Ngoc was one of many locals I was to meet during my visit. Most of them were eager to make my acquaintance and practice their English. All of them gave me some insight into a people and a nation on the rise after long years under the thumbs of first colonialism, then war, then communist isolation.
After the chaos and smog of Vietnam's capitol city, Hanoi, it was literally a breath of fresh air to head to the central coast. My aim: To explore Hoi An and its surrounds. Hoi An is a UNESCO World Heritage town which was spared the ravages of the American War. Nearby, the ancient holy city of My Son houses the ruins of  Southeast Asia's earliest Hinduized civilization.
Today, both Hoi An and My Son are tourist hot-spots, and the area is one of Vietnam's most popular destinations.  Hoi An's Old Town, which was built at the edge of the Thu Bon River, boasts no less than 800 historic structures,  almost as many restaurants serving fresh, authentic meals, inviting little shops brimming with handicrafts and furnishings, and the ubiquitous tailor shops offering custom-made clothing in the finest Vietnamese silk.
There's a sheer physical beauty to Hoi An. Family compounds made of richly hued hardwoods, ornate and colourfully detailed  Chinese assembly halls, French colonial buildings with their signature, mustard yellow stucco facades, and Sino-Portuguese shop houses stretch along a handful of charming lanes.  One of the most fetching contrasts of the Old Town are the brightly coloured silk lanterns. They hang everywhere and stand in cheery opposition to the dark woods and earthen tones of building facades. Together, they make up some of the best examples of fine craftsmanship influenced by a host of cultures, then weathered by centuries of wind and water.
Between the 17th and 19th centuries the city, once called Faifo by western traders, was one of Southeast Asia's most important international sea ports, thanks to its deep water river and close proximity to the South China Sea. But Hoi An's history began long before that. As far back as the 2nd century C.E. the town was the Champa Kingdom's biggest port of call. Chinese and Japanese traders used it as a provisioning stop before sailing onward. For eight centuries,  and then two more, Hoi An flourished and the influence of its visitors remains in the architecture and the business-savvy character of  its denizens.
This long history of merchants and merchandising paired with a newly opened economy, UNESCO status and rising tourist boom can be a deadly mix for a visitor's wallet. Locals sell and they sell hard.  "Hello madam, you buy." or "Hello, you come into my shop please." or plain old, "You buy something from me." are called out to tourists from smiling merchants selling everything from fine silk garments to tiger balm.
Town for Walkers
Hoi An is called the "Town for walkers" thanks to the close proximity of everything and a city ordinance that bans motorized traffic in the Old Town four days a week during prime tourist shopping hours. Most visitors, myself included, begin by purchasing a ticket for the  Hoi An Town Walking Tour. The ticket,good for three days, gives you entry into a choice of heritage attractions with particular cultural or historic significance, as well as a cultural performance, a boat tour and visit to a handicraft workshop.
On my first afternoon I waded through the crowded, central market. The tarp covered stretch of sidewalk along the river was packed with merchants selling fresh produce, meats, seafood and household items. The smell of fish and fragrant herbs like mint, basil and coriander – those culinary necessities of Vietnamese dining – seemed to fill every space within the tight confines of the bazaar. The hot, sticky air was heavier still with the noise of clamoring buyers and sellers deep in price negotiations. A woman came up to me with a thin string stretched between both hands. She twisted and snapped it near my face "clean eyebrows," she said, "you like – look pretty!" Looked pretty scary to me. "No thanks," I smiled and moved on.
When I cleared the market, I headed north up Phan Boi Chau street. Formerly Courbet Street, it had been named after a French admiral who once held sway here. The lane's row of mustard coloured, 19th century houses define the French quarter, which was once the popular haunt of colonial sailors on R&R.
Number 25 Phan Boi Chau is home to Mr. Tran Duong, a sixth generation local who is happy to welcome guests for a visit. This retired math teacher speaks fluent French and English. He gave me a tour of his home and told me about its history and structure.
Along with most of its neighbors in the quarter,the house was built in the late 19th century by a French resident. Mr. Doung's great, great grandfather purchased it in 1910 and it has been in the family ever since. High and narrow with four ironwood beams to support the roof, the 60 metre long, two story home has withstood countless typhoons over the decades. The house has many French features which Mr. Duong happily pointed out: the balcony and balustrades, slated window shutters, an ebony wardrobe more than a century old, and a 3×2 metre, solid ebony bed where, each night, the entire family still sleeps communally – adult children and their spouses included.
"I have always lived here, and I have seen many changes," he reflected. "Twenty years ago, there was one hotel in Hoi An, now there are 82." His statistics go on: according to Mr. Duong, two decades have brought to this small town almost 700 tailors. He did not venture to speculate on the increase of restaurants or gift shops from two decades ago, but from the look of Hoi An today, I would guess their percentages are equally as high.
Besides visiting the town's historic sites, a stroll along the Bach Dang road is a must. Here, cafe's oozing charm look out over the tranquil river, people stroll slowly, ride bicycles in singles or pairs, and aging fishermen (and women) solicit rides on their tiny vessels to passers-by. The view of Hoi An from the water is especially picturesque, and an hour aboard ship is a rare opportunity to meet a local elder – something almost impossible to experience at highly developed tourist destinations in other parts of the world.
Beyond Hoi An
I walked along the beach one morning before dawn. The horizon was thick with fog and I could see almost nothing beyond the wave break as my feet slipped step by step through white sand. I marveled at how secluded I felt, for there is little evidence of tourism's unsightly face along much of Vietnam's central coast: plastic flotsam, make shift bars, or lines of chairs are noticeably absent.
I squinted to the sea, eyeing dark specs in the distance. As the fog lifted with the sunrise, I saw many more of what looked like enormous, black swans with long necks and round bodies gliding smoothly over the surface of the water. As they moved closer to the wave break I saw that they were fishermen, each one standing in his own small boat – a totally round vessel made of wide, bamboo strips. There were as many as 100 of these lonely fishermen, silently plying the tumultuous South China Sea.Their traditional basket boats are extremely light weight which makes them appealing even today because they are easy to carry and can be used to fish in very shallow waters.
Late one afternoon I headed to Cam Kim Island aboard a ferry boat. It was standing room only on this open-decked ship, and I crowded in with locals, motorcycles and bikes for a 15 minute journey upstream. Cam Kim is know for its master wood carvers, and the village echoes with the sounds of chisels and hammers. I walked through scenic neighborhoods of private homes and untouristed  gift shops. At one family compound I stood under a trellis bursting with fuchsia-coloured bougainvillea while two artisans carefully detailed a statue of Kuan Yin, (a female deity commonly seem in Vietnamese Buddhist iconography). They smiled but remained focussed on their work and didn't seem to notice when I moved on, aiming for the mainland as the sun set behind me.
The next day I went to a pottery village just west of town.We stopped at the outdoor workshop of Mrs. Ahn,a 76 year old potter. She  has been crafting pots, piggy banks, lantern covers and housewares beside a walk-in kiln for 60 years. She squatted on a low stool before her potter's wheel, turning a small vessel. Her niece stood above her with one foot on a brick while other pawed the wheel in a rhythmic beat to keep it spinning. As I marveled over their collaborative effort, Mrs. Anh motioned for me to give the wheel a whirl. It was easier than it looked, and they complimented me profusely. But I imagined that a few hours a day of this repetitious action would  wear on my steadiness, leaving me lopsided and tired.
My Son
No visit to Hoi An is complete without a tour of  My Son, the holy city of Champa's kings, built between the 4th and 13th centuries CE. At its height, Champa's influence stretched from DaNang in the north to Nha Trang in the south, with Hoi An as it's commercial hub and My Son as its religious centre.Today, this UNESCO World Heritage Sanctuary is a collection of temple ruins, some surprisingly well-preserved, set within a lush jungle valley. Carved with exquisite detail and exhibiting influences from India, Malay-Polynesia and the Cham's own stylistic preferences, these carefully-wrought brick towers cannot but impress.
My visit coincided with a tour group of Junior College students from Hanoi. As I reached the third cluster of structures, most of them bombed to smithereens during the American war, a gaggle of girls crowded before me, attempting to communicate. My French companion and I – already struggling to communicate with each other – found ourselves conducting brief language lessons and practicing xin chao (hello), cam on (thank you) and khong co chi (you're welcome), to peels of laughter over our strange accents. Once again I was struck by how friendly the locals are to the Americans and the French – and equally surprised to see how these two nationalities seemed to dominate the tourist market. Old ties die hard, perhaps – for better or worse. These days, it definitely seems to be for the better.
During the tour of Mr. Duong's century-old home on my first day in Hoi An, he led me to a 120 year old table with mother-of-pearl inlay of the most extraordinary, golden hue. "In Vietnam legend, the peach tree is the symbol of longevity," he told me as he pointed to its image embedded in the wood. Having defeated three United Nations security council countries over the course of 12 centuries – and survived –  perhaps the tree more aptly symbolizes the Vietnamese themselves. Like the hearty peach, they've weathered a lot of storms yet still manage to bear fruit.