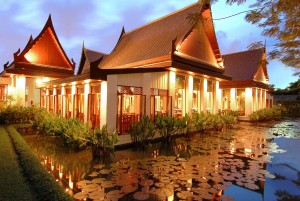 The elegant Celadon restaurant at Bangkok's Sukhothai Hotel is a pleasure just to sit and sip a wine at. But with their new chef Jimmy, diners have a delightful new menu to savor, too!
Celadon Unveils New Chef New Menu at The Sukhothai Bangkok
The Sukhothai Bangkok's new Thai chef Chamlong Pewthaisong, or Jimmy, is launching a new menu to serve diners with a satisfying and personalized journey through Thai cuisine in the elegant air-conditioned salas and open-air terraces, overlooking our picturesque lotus pond, of Celadon restaurant.
Born and raised in Thailand, Chef Jimmy was inspired to cook primarily by his own background, having a family who owned a private Thai restaurant business, and it is a love he has never lost. Every dish he creates enchants the taste buds of diners with the different aspects of traditional Thai flavors but also captures the eye through an elegant modern presentation.
Try Chef Jimmy's recommended Steamed Thai Dumpling, Deep-fried Marinated Chicken in Pandanus Leaves, Crispy Soft Shell Crab with Thai Herbs, Rice Paper Sheet Roll with Crispy Gourami Fish and Green Mango, Spicy Black Garoupa Soup, Wok-fried Seafood, Red Curry Sauce, Lamb in Mussamun Curry, and much more.
Celadon is open daily at 12.00-15.00 hrs. for lunch and 18.30-23.00 hrs. for dinner.
For reservation you can call 66 (0) 2344 8888 or email promotions@sukhothai.com.